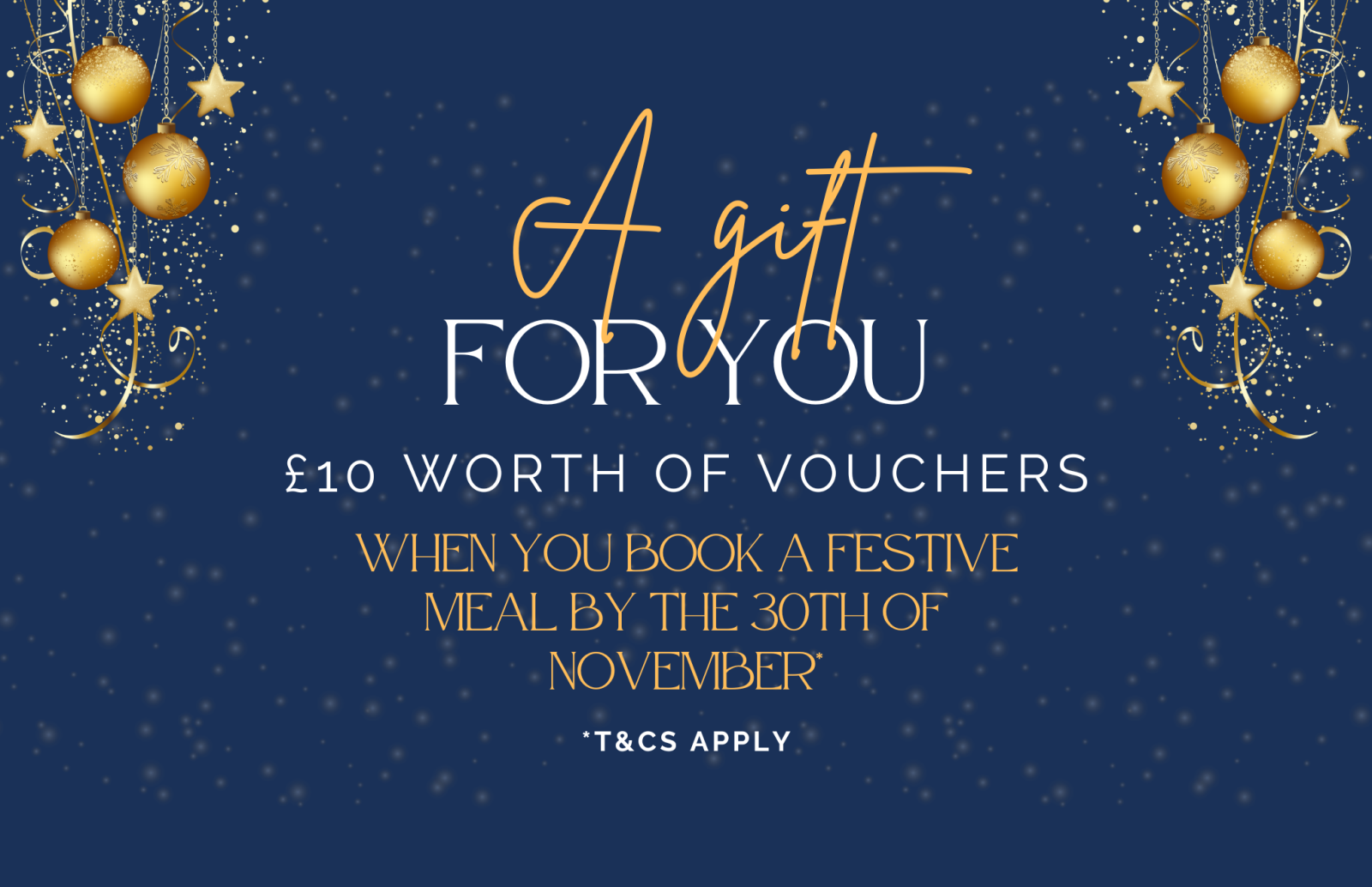 It's the season for cosy log fires and outrageous Christmas jumpers, when the enchanting aromas of cloves and roasts and magic fill the atmosphere with a palpable sense of anticipation and festive cheer.
Whether you're planning to get together with loved ones, catch up with friends, or host an after-work dinner, we're inviting you to indulge in the magic this festive season with our two and three-course winter set menu – perfect for a relaxed, sit-down Christmas meal.
Throwing a party? For more casual dining and drinking, check out our autumn and winter buffet, ideal for larger group bookings and parties.
A gift from us
Celebrate the season with us and get a £10 voucher to spend in January!
If you book a festive dinner from our set menu for four or more people and pay your deposit by the 30th of November, we'll give you a voucher worth £10 to spend in January!
Don't miss out! Offer ends 30th of November.
Call or email now to book your table.
*Terms and conditions apply.
Festive Menu
Our festive set menu is available from Thursday to Sunday between December and mid-January. Deposits are required two weeks in advance of bookings.
Two courses £29.50 | Three courses £34.95 (*£5 deposit per person)
V – Vegetarian | VG – Vegan | GFA – Gluten Free Available on request
Starters
Truffled leek and potato Vichyssoise
Warmed baguette and smoked sea salt butter
VG | GFA
Pipehouse Gin cured Salmon Gravlax
Rocket, dill sour cream and olive oil crostini
GFA
Charcuterie Meats
Mixed pickles and olives
Mains
All served with sharing bowls of sautéed Brussels sprouts with bacon, glazed carrots and buttered green.
Vegan options available on request
Roast Turkey Breast
Sausage and sage stuffing, pigs in blankets, garlic and rosemary roast potatoes, parsnips and a rich jus
GF
Pan Fried Sea bass
Crushed new potatoes, mussel and leek fricassee
GFA
Roasts Butternut Squash and Sage Polenta
Garlic and rosemary potatoes, parsnips and a rich jus
VG
Desserts
Mini Guinness Chocolate Pot
Topped with oat milk Chantilly cream
VG | GFA
Traditional Christmas Pudding
Cream and brandy butter
Affogato
Vanilla ice cream with espresso and frangelico
* Deposits required two weeks in advance of bookings and are non-refundable a week prior.
Call or email to book your festive meal.
Terms & Conditions
The Voucher: The following statement sets out the terms and conditions for the redemption of the £10 voucher (the "Voucher") incentive for Festive Set Menu bookings. The offer only applies when you book for groups of four (or more) people to dine from our two, or three-course festive set menu. The booking deposit must be paid by the 30th of November. The Voucher is issued on final settlement of the bill and may be redeemed between the 1st of January 2024 and the 31st of January 2024. The Voucher cannot be redeemed against alcoholic beverages. The Voucher can only be redeemed once and must be submitted at the till upon use.
Restrictions and limitations: The Voucher may be redeemed against food orders at any time during our regular opening hours between the 1st of January 2024 and the 31st of January 2024. Only one Voucher can be redeemed per transaction. The voucher cannot be used against orders from our Festive set menu or our Autumn/Winter Buffet Group Dining menu. Participants must be aged 18 or over.
The Promoter: Fonthill LTD, The George, 29 Mt Ephraim, Tunbridge Wells, TN4 8AA.