From live events and music festivals to steam trains and woodland adventures, there's something for everyone in our comprehensive guide on the best things to do in Tunbridge Wells.
Nestled amidst the vast High Weald Area of Outstanding Natural Beauty, Tunbridge Wells is a bustling town, alive with music and arts, imbued with rich history and culture, and adorned with quaint, Georgian architecture.
Ready to learn more? Let's explore the unforgettable experiences on offer in our charming corner of England!
15 Best Things to Do in Tunbridge Wells
1. The Chalybeate Spring
Discovered in 1606 by a parched and hungover Dudley North, 3rd Baron North, this natural iron-rich spring is the very attraction around which the town of Tunbridge Wells sprung. After sampling the frothing spring water, North proclaimed that it has healing properties, that it could cure "the colic, the melancholy, and the vapours; it made the lean fat, the fat lean; it killed flat worms in the belly, loosened the clammy humours of the body, and dried the over-moist brain."
Noble visitors from London and afar soon travelled to The Wells to sample the healing water, usually served by a designated, costumed person called a "Dipper."
Today, you can visit the Chalybeate Spring in the Pantiles whenever you like. In the summer, and when circumstances allow, you may even get to sample the water for yourself, served by a traditionally costumed dipper.
2. The Pantiles
The Pantiles is the historic heart of Tunbridge Wells. A huge variety of specialist stores, art galleries, cafes, restaurants, and bars line this beautifully preserved Georgian colonnade, making it an ideal shopping destination.
The Pantiles hosts various farmer's markets, craft markets, and events throughout the year, including outdoor jazz concerts in the summer, and other live events on the historic bandstand.
3. Amelia Scott
The Amelia Scott contains a collection of around 60,000 objects to do with local history, natural history, archaeology, fine arts, and social history, making it an ideal afternoon visit for learning all about the history of Tunbridge Wells – especially on rainy days!
They also hold regular art exhibitions and local events, so be sure to check out their what's on page for more information.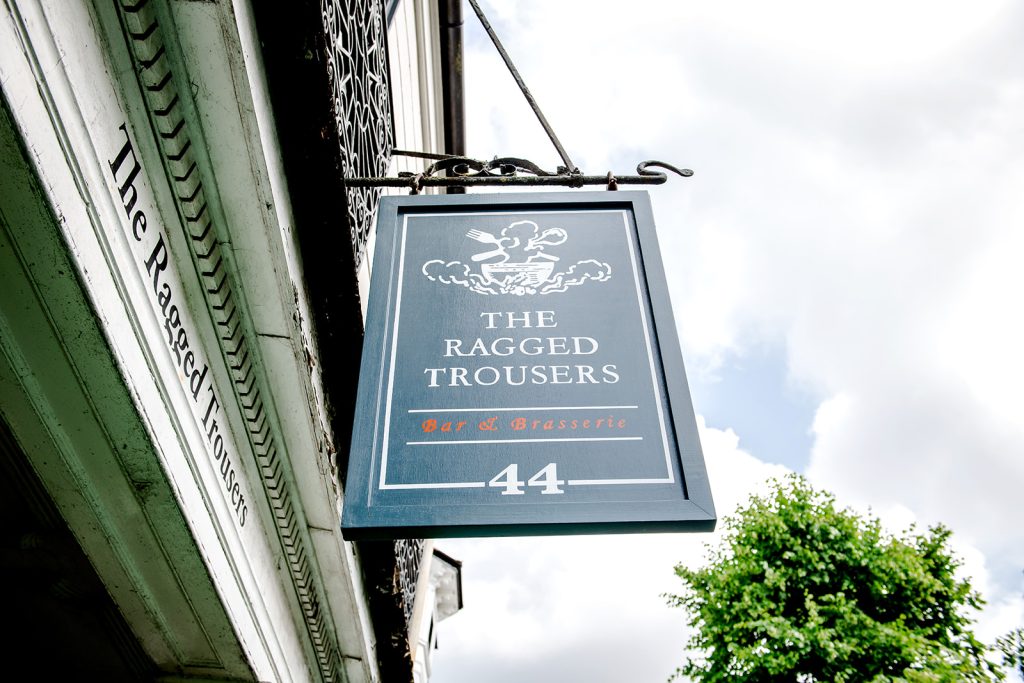 4. Lunch in Tunbridge Wells
After a busy morning strolling the Pantiles, we recommend stopping for food at The Ragged Trousers, one of the best spots for lunch in Tunbridge Wells.
Not hungry? That's okay – as one of the most (if not the most) welcoming and versatile venues on The Pantiles, The Ragged also offers coffee, a nice wine list, a wonderful range of craft beers and well known brands, as well as beautifully cooked food.
While there, check out the heritage plaque on the pub's exterior. The Ragged is built on the site of the Pantiles' Assembly Rooms, the headquarters of celebrated 18th century dandy Richard "Beau" Nash, who was the Master of Ceremonies for Tunbridge Wells.
5. The Tunbridge Wells Forum
The Forum is an independent grassroots music venue hosting live bands, comedy, theatre, art, and other entertainment throughout the year. If you're looking for a memorable night out, this small yet iconic venue has hosted popular artists such as Green Day, Oasis, and Coldplay.
Check out the Tunbridge Wells Forum website to see what's on, and don't forget to book your tickets in advance!
6. The Sussex Arms & Forum Basement
The Sussex Arms is simply one of the best pubs in Tunbridge Wells, unrivalled when it comes to its electric atmosphere. The Sussex also host the best pub quiz in Tunbridge Wells! The Forum Basement is the pub's live music venue, which hosts a range of live music and entertainment curated by The Forum. Open until 1 am on Fridays and Saturdays, this pub is the ideal destination for a night out.
By day, The Sussex is a traditional pub in Tunbridge Wells, with a lovely covered outdoor space and seating. It's located just by the Pantiles (on Sussex Mews), making it a perfect spot for a break from shopping.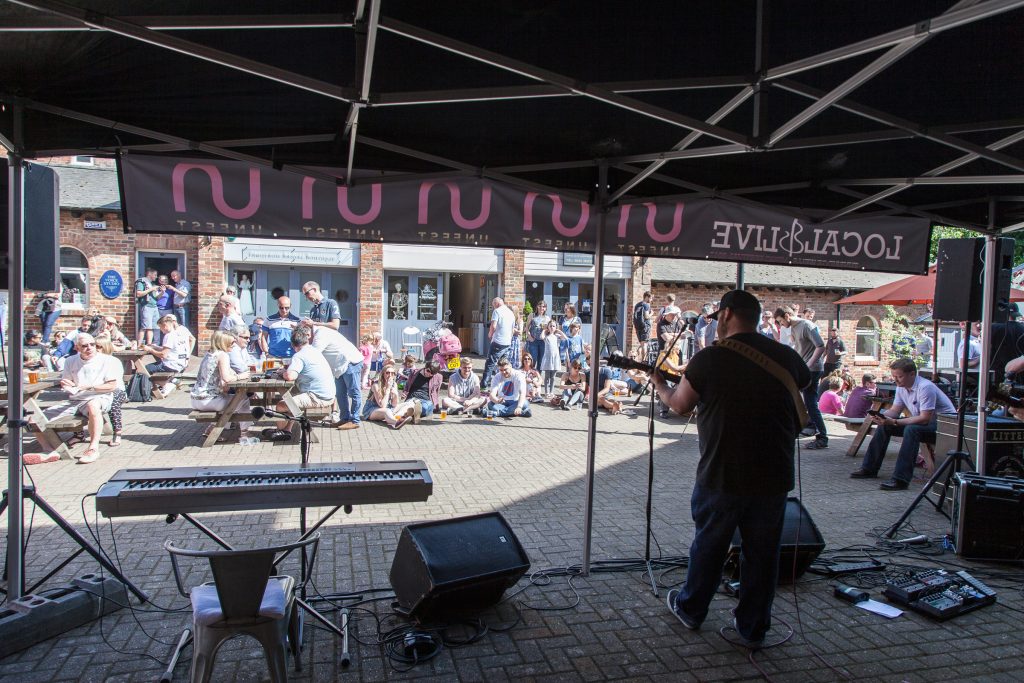 7. Music Festivals & Events
There's always something going on in Tunbridge Wells. This town is a bustling hub for culture and music, as seen from the number of festivals and events organised throughout the year.
The party kicks off each year in spring with Unfest – a free to attend urban fringe festival that's hosted in various venues across town.
Jazz on the Pantiles runs every year from May to September, during which musicians take to the stage at the bandstand every Thursday evening.
The Tunbridge Wells Mela is the town's free celebration of music, culture, food, and arts from around the world. This year, the mela will take place in Calverley Grounds on Sunday the 23rd of July – we'll be at the bar, so drop by and say hello!
Local & Live Music Festival also takes place in Calverley Grounds – it's a free four-day event featuring the best local talent, and is suitable for music fans of all ages. This year, Local & Live will be held over the August bank holiday weekend, starting from the Friday evening (25th) through to Sunday night (27th) in Calverley Grounds. The fun continues on Monday the 28th on Sussex Mews.
8. Fonthill Brewery Taproom & Cocktail Bar
Whether or not you sample healing water from the Chalybeate Spring, we recommend you head over to The George and The Fonthill brewery taproom, where you can sample handcrafted beer and real ale, made right here in Tunbridge Wells. Join us in late September for a cheerful start to autumn as we celebrate Oktoberfest beer in the UK!
Regular Open House events at the Fonthill taproom feature cocktail masterclasses , live music, meet the makers events, and brewery open days. Check out our post on the cosiest cocktail bar in Tunbridge Wells to learn more about this awesome space!
Outdoor Fun in Tunbridge Wells
9. Calverley Grounds
Located right in the centre of Tunbridge Wells, Calverley Grounds is a beautifully kept, landscaped park of flower beds and lawns – an ideal location for an afternoon stroll or a family picnic.
There's a children's adventure playground, as well as free tennis, netball, and basketball courts. If you do go to Calverley Grounds, make your way to the highest point in the park, from which you'll get a beautiful view of the Tunbridge Wells skyline.
10. Tunbridge Wells Commons
If you're looking to go for a walk, run, or picnic area close to town, Tunbridge Wells Common is a beautiful spot of natural green space right in the heart of town.
The Commons boasts a huge range of plants and wildlife, including roe deer and grass snakes. From woodland paths to open land, lakes and ponds to the natural rocky outcrops of Tunbridge Wells sandstone, there's plenty to see here, no matter the season.
11. Scotney Castle
A popular attraction, Scotney Castle is an English country house renowned for its charming fairytale-like gardens and mediaeval, turreted castle ruins. The wisteria wrapped remnants of the original moated house are nestled on an island within a tranquil lake.
Throughout the summer, Scotney Castle hosts events such as outdoor theatre performances and guided tours.
12. Dunorlan Park
Dunorlan park, with its Victorian garden, meadows, and varied wildlife, features a cafe, a chalybeate spring, a Grecian temple, children's play area, and more. The terrace in Dunorlan offers a beautiful view of the countryside.
During weekends in April to October, and every day during the school holidays, you can go boating on the lake using a pedal boat, rowing boat, or canoe.
13. Bewl Water
If you're looking for family adventure, Bewl Water in Lamberhurst is an 800-acre parkland with miles of scenic pathways at the largest reservoir in the South East, where "water meets woodland."
From aqua parks and laser tag to adventure playgrounds, fishing, soft play areas, swimming, and water sports, there's no shortage of year-round outdoor activities at Bewl Water.
14. Broadwater Warren
Perfect for birdwatchers and those who enjoy nature, Broadwater Warren is a RSPB nature reserve boasting 600 acres of heathland and woodland in the High Weald, 10 metre high sandstone outcrops, wild Exmoor ponies (from May to September), streams and ponds, and rare flora and fauna.
Here, you may be lucky enough to hear or spot Goldcrests, Marsh tits, the ever elusive Nightjars, Woodlark, and Tree pipits.
15. Spa Valley Railway
A favourite amongst families, the Spa Valley Railway offers a picturesque steam train journey through parts of Kent and Sussex.
Look out for special events featuring guests such as Thomas and Friends, Peppa Pig, Bing and Flop, and Paddington Bear! Other events include live entertainment and 3-course meals aboard the trains, though these need to be booked in advance. A full calendar of events can be found on the Spa Valley Railway website.
A Restful Sunday Brunch
Whether you immerse yourself in an adventure-filled day of outdoor activities, a lively night out with friends, or indulge in both, kickstart your Sunday by heading to The George between 10:30 and 2pm for a delicious brunch.
From mouth-watering blueberry pancakes and fluffy French toast to savoury classics including scrambled eggs, crispy bacon, eggs hollandaise, and more, our scrumptious Sunday brunch options will energise you for the week ahead!
Note: Sunday brunch is available throughout spring and summer. In the autumn and winter, we switch to Sunday roasts! Please see our Sunday menu page for up-to-date information.
Enjoy this post? You may also be interested in our guide to Christmas in Tunbridge Wells!