India Pale Ale, more commonly known as IPA beer, is a strong and hoppy type of pale ale that originated in 18th-century England. Despite its place of origin, IPAs had all but disappeared from pubs in England by the mid-20th century.
Thanks to craft brewers and beer enthusiasts, this is no longer the case. IPA beer has gained immense popularity over recent years, especially during the craft beer boom of the last decade.
In our ultimate guide to India pale ale, we'll delve into its fascinating history and brewing process and explore the characteristics and flavour profile that has made this ale the go-to choice for so many beer lovers worldwide.
origins of IPA beer
The origins of IPA beer can be traced back to the 18th century when a type of pale ale, called October ale, was exported from Britain to India, which – at the time – was under the control of the British East India Company.
The British Empire in India needed beer. But how do you transport beer across the ocean without it spoiling, especially with limited preservation techniques, not to mention the hot climate of the Indian subcontinent?
The story goes that to address the issue, brewers began experimenting with higher hop concentrations and stronger alcohol content. Hops act as natural preservatives while leaving a distinct flavour and bitterness in the beer. This hoppier, boozier ale, required a period of maturation, which it could undergo en route to India.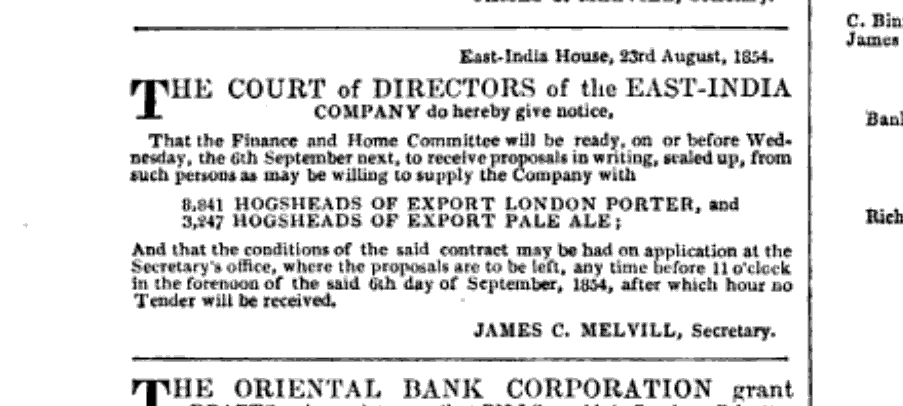 Although pale ale was popular amongst the officers and officials in India, it wasn't the most prevalent type of beer to be exported to the subcontinent. Newspaper tenders from the time, such as this one from Allen's Indian Mail, show that a larger quantity of porter was being exported simultaneously.
Interestingly, tenders from a few years later suggest that the demand for India Pale Ale grew quite rapidly over the years.
One of the best-known brewers to export pale ale to India was George Hodgson's Bow Brewery, whose October ale – which only seemed to benefit from the 3 to 5 months of ship storage – became highly regarded by the East India Company.
IPAs continued to gain popularity as several other breweries, including Allsopp's, Bass, Salt, and Charrington, created and successfully exported their own version of a strongly hopped pale ale.
Fast forward a century, the invention of refrigerators and the soaring popularity of lagers meant that IPAs were largely forgotten here in the UK. It wasn't until the late 80s and the American craft beer boom that U.S. brewers redefined IPAs by emphasising bold and hoppy flavours and aromas.
Over the last decade or so, IPAs have become one of the most popular beer styles amongst craft beer enthusiasts in the UK – and worldwide, for that matter – with a variety of different substyles, flavours, and strengths hitting bars and pubs throughout the country.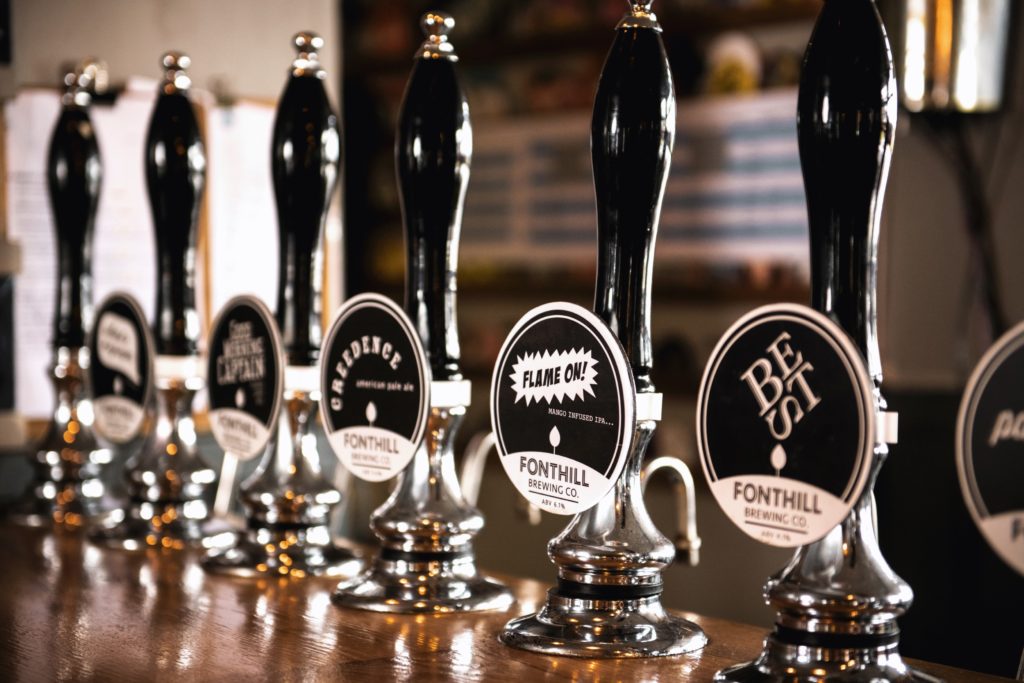 IPA Styles: Which One's for You?
British IPA
The original IPA. British India pale ale is characterised by its hop-forward profile and high alcohol content. These beers typically display a balance of maltiness and hoppy bitterness and are often described as one-noted. They can range from golden to amber in colour.
One of the first cask ales we brewed here at the Fonthill brewery, Palimpsest, we bill as a Golden Ale, but at a quite pokey 5.5% it's very much a British-style IPA.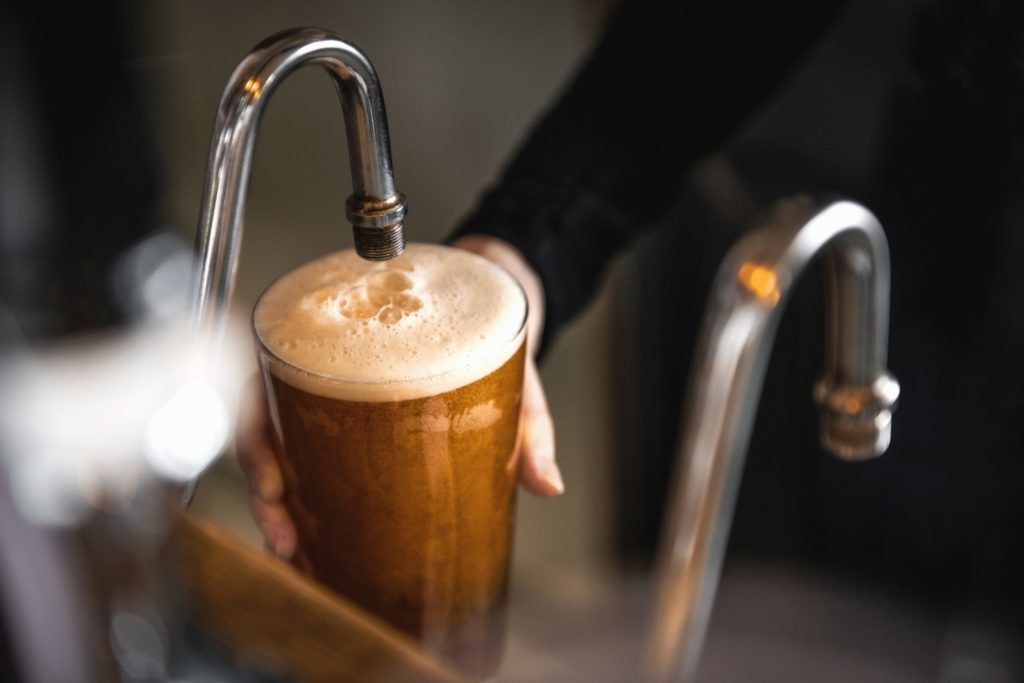 West Coast IPA
These IPAs originate from the West Coast of the United States – California, specifically. West Coast IPAs are known for their bold, hoppy flavours and bitterness. Expect intense citrus, pine, and resinous aromas from the cascade, citra, and chinook hops used to brew these ales. West Coast IPAs come in vibrant gold colours and offer a crisp, dry finish. These IPAs are loved for their refreshing tastes, which often showcase grapefruit and floral notes balanced by malt.
East Coast IPA
Also known as New England IPA, this substyle of the India pale ale is hazy and juicy, with a strong hop aroma but low bitterness. East Coast IPA is characterised by its cloudy appearance, but the addition of flaked oats or wheat also gives this ale a smooth and creamy mouthfeel. East Coast IPAs often showcase fruity flavours with mango, pineapple, and citrus notes. Try this IPA for a sweet and fruity flavour profile!
Lactose IPA (Milkshake IPA)
Despite its name, the Lactose IPA, or Milkshake IPA, does not contain milk. These ales offer a unique and flavourful twist on the traditional IPA by introducing lactose, a non-fermentable milk sugar, into the brewing process. The Milkshake IPA is often creamy in texture. Expect hints of sweetness from the lactose, with fruity and tropical flavours and a smooth mouthfeel.
Belgian IPA
Belgian IPAs combine the hop-forward bitterness and floral notes of the traditional IPA with the warm and bready notes of the traditional Belgian ale for a complex and refreshing beer. The Belgian IPA is hazy and golden in colour, with a balanced sweetness and a hoppy bite.
Fruited IPA
Fruited IPA is made by incorporating fruit purees, or even fresh fruits, into the ale during fermentation. This style of IPA boasts a delicious balance between hop bitterness and fruity sweetness for a refreshing and aromatic ale that includes hints of tropical fruits, citrus, and berries.
Here at Fonthill, Flame On! is our seasonal fruited cask IPA infused with delicious Mango.
Black IPA
As the name suggests, the black IPA boasts a dark, almost black colour and a rich and robust malt profile due to the use of darker malts in the brewing process. This beer retains the hop-forward characteristics of the traditional IPA, but it's balanced by rich roasted maltiness. These ales contain hints of chocolate, caramel, coffee as well as floral and citrusy notes.
For an exemplary Black IPA, check out Fonthill Bearer of Bad Tidings (5.7% ABV), brewed in collaboration with the guys at the Sussex Arms pub in Tunbridge Wells.
White IPA
White IPA is a refreshing combination of the best of an American IPA and a Belgian Witbier. It blends the characteristic hoppy bitterness of an IPA with the spicy, fruity notes of a Witbier. They're typically hazy in appearance and offer a burst of tropical fruity, herby spiciness, and a smooth wheat malt backbone.
Decoding IPA terminology
Session IPA
Session IPAs contain less alcohol and are easier to drink. Perfect for longer drinking sessions, these beers usually have 5% ABV or less.
Double/Imperial IPA
Almost the opposite of a session IPA, double and imperial IPAs contain a higher hop concentration, more malt, and more alcohol (7% or higher). Expect bold, robust flavours and a strong finish with these intensely hopped ales!
Dry hopped
Expect dry-hopped IPAs to have deeper aromas and flavours without too much hoppy bitterness. Dry hopping is a technique in brewing where hops are added late in the brewing process – usually during fermentation.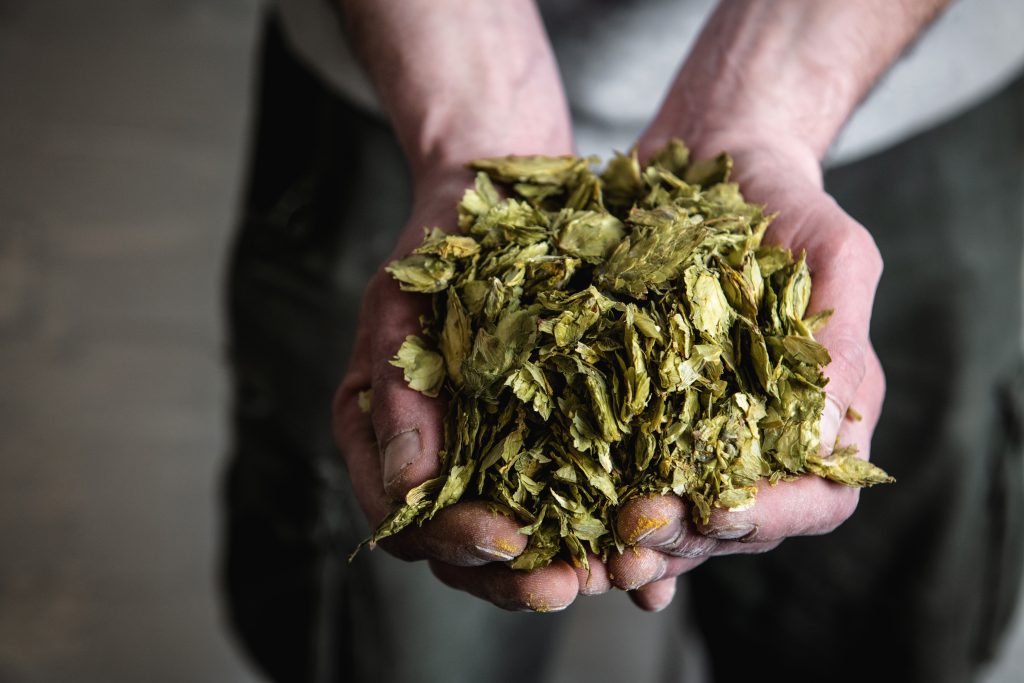 Double dry hopped
The double and triple in double and triple dry hopped IPAs indicate how much hops the brewer has added to the beer. A double dry hopped IPA will be very fragrant, with a heightened hop complexity.
Single hopped
A single-hopped IPA is brewed using only one variety of hops, giving you the opportunity to differentiate and appreciate the unique characteristics and flavours that each variety brings to a pint!
Fresh hopped
Hops only remain fresh for around 24 hours after they have been harvested. This is why most beer is made using dried hops. Fresh-hopped ale is crafted using fresh hops that have just been picked from nearby farms and hop gardens. Expect a fresh hopped IPA to be bursting with bright flavours and aromas.
Frequently Asked Questions
What is pale ale?
Pale ale is a type of beer brewed using pale malt. They range from golden to amber in colour and have medium to high carbonation. Originating in the early 1700s in England, pale ales were brewed using malts that had been dried with high-carbon coke. This process resulted in the beer's famous paler colouring compared to other beers of the time.
What is IPA beer?
IPA, or India Pale Ale, is a hop-forward subtype of pale ale characterised by its hoppy bitterness, floral aroma, and a higher alcohol content than typical pale ales. There are many substyles of IPA, with various flavours ranging from malty to fruity and a wide variety of colours, ranging from warm golden to dark, almost black.
Why is it called an IPA?
IPA (India Pale Ale) is called this because it was crafted in the early 1800s in England with a higher alcohol content and extra hops to survive the ship's journey from England to India. The East India Company bought and transported the beer, and this is likely where the name comes from.
What is the difference between IPA and lager?
India pale ale is fermented at warm temperatures using top-fermenting yeast, while lager is fermented at low temperatures using bottom-fermenting yeast. Check out our post on ale vs. lager to learn more about the differences between beer styles.
Is IPA stronger than lager?
Traditionally, IPA beers did have a higher alcohol content than lager. The high alcohol content was so the ale could last the long 3–5 month sea journey from England to India. Today, a typical IPA will have an ABV of around 6% – still higher than the average lager.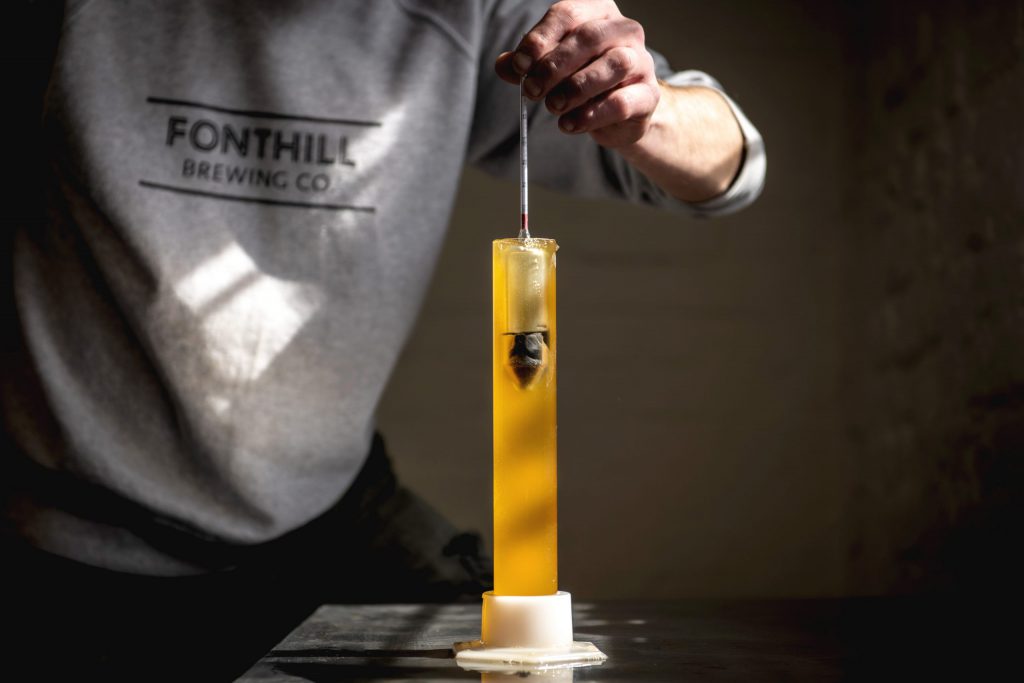 But this isn't always the case! Session IPAs have a much lower ABV, at around 3–5%, perfect for long and responsible drinking sessions. Other IPAs are much, much higher in alcohol content!
Is pale ale an IPA?
No. All IPAs are a subcategory of pale ale, but not all pale ales are IPAs. While pale ales are less hop-forward and are more characterised by their malts, IPAs are known for being extra hoppy, resulting in fragrant floral notes and bitterness. IPAs also typically have a higher alcohol content than pale ales.
What is a session IPA?
While retaining the hoppy characteristics of IPA, a session IPA has less alcohol content, allowing for longer drinking sessions.
Fonthill IPA
Here at Fonthill Brewery, we craft a variety of IPA styles including a classic British IPA (Palimpsest), Fruited IPA (Flame On!), and a Black IPA (Bearer of Bad Tidings).
Brewed in collaboration with our friends Only With Love in Uckfield – our Keg IPAs include Bonzo, a proper IPA made with a mix of UK hops such as Fuggles, and Australian varietals such as Topaz and Nelson Sauvin, and Pedal Steel, a tropical session IPA featuring El Dorado, Cascade, Mosaic, Citra and Simcoe hops.
"The IPA style is far broader than it once was, thanks to it being adopted across the world. It's one of the most popular beers to make among brewers due to the huge number of hop varietals you can play around with – and the resulting complexity of flavours. Plus, you aren't quite as restricted on alcohol content, as people expect – and often want them – to be quite strong.''

Paul, Head Brewer at Fonthill Brewing Co.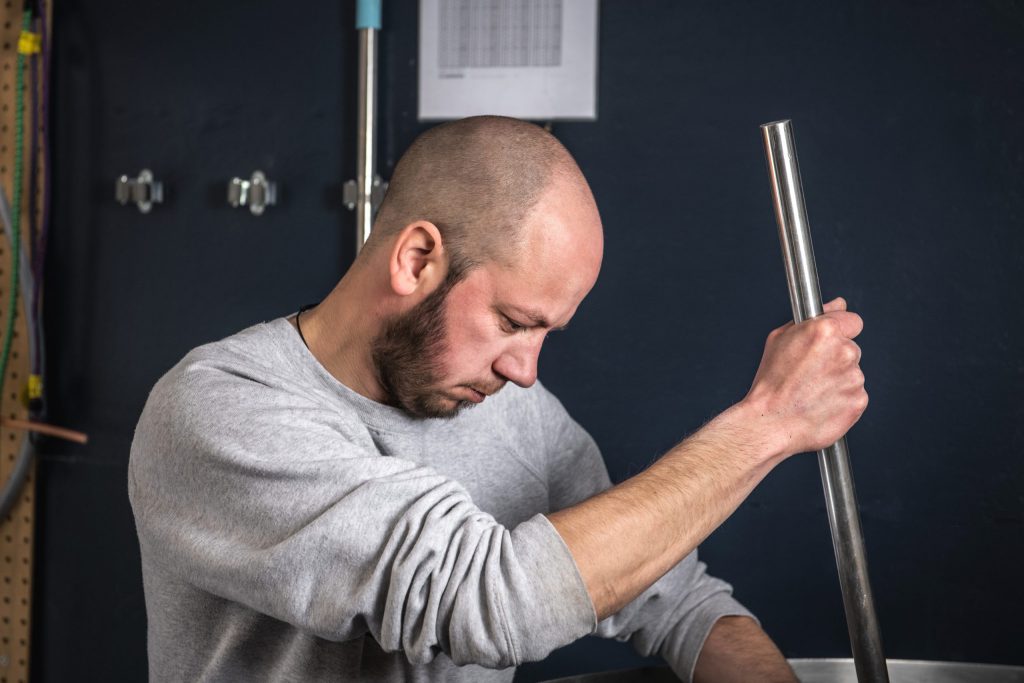 Celebrating the IPA
IPA, or India Pale Ale, has become synonymous with craft beer, evolving from a hoppy ale brewed to withstand long sea voyages into various substyles, each with its own unique characteristics and flavours. Whether you like it boozy or fruity, there's an IPA out there to suit every taste!
While it can be fun reading about IPAs, nothing compares to experiencing them yourself! Join us here at the George pub and Fonthill taproom and sample our best IPAs in person. You can also find a wide range of craft beers at our sister pubs, the Ragged Trousers and The Sussex Arms pubs in Tunbridge Wells.